This was a first for me. All my FarRides have been done on a GoldWing and as I have always said, it is cheating.
Doing 1000km on a big comfy 'Wing is nowhere as difficult as doing it cramped up on some sporty crotch rocket, and I've often marveled at those who subject themselves to such hardships.
With the 'Wing still in the shop getting kangaroo damage fixed and awaiting parts from a beleaguered Japan, the FarRiding Steed duties fell to the "little bike", the CBF 1000, known as the Biffer.
OK so it is not really a crotch rocket sporty, but it wasn't designed as a long-haul tourer either.
Our plan was to keep it down to a 1000km FarRide this time. Charleen is eligible to go for a 1200, having completed four riding 1000s, but this ride was not the time. Besides, how I would go on the little bike was in question. I've done some longer rides on it, but not a FarRide as such.
So we set out from Brisbane on Friday morning, planning to stay at Biloela, then do the 586km from there to Eungella in the morning and complete the 1000 by making it to Rocky after lunch.
Also in the plan was to keep away from The Bruce - not our favourite highway. Despite being well and truly over-policed for speeding offences, it remains a dangerous road and the school holidays don't help.
So it was turn left at Caboolture and head up the D'Aguilar Hwy to Nanango then join the Burnett Hwy to Biloela.
We were lucky at the Blackbutt Range, which has a one-way section similar to Cunninghams Gap and due to the same wild weather last year. It can often result in a half hour delay, but we just got in at the end of the queue.
Pulling up for our first fuel stop at Gayndah, we noticed it was 11:55am so we waited for five minutes and got a midday docket just for fun.
Taking a break at Lawgi Hall
The going was pretty easy and we arrived in Biloela in the early afternoon which gave us plenty of time to have an early night for an early start next morning.
In fact we had so much spare time we decided to go for a ride - as you do. We figured that if we did a 160km run this afternoon, added that to what we'd done since Gayndah and to what we'd do in the morning, we'd have over 1000km up before getting to Eungella.
A break at Roundstone Station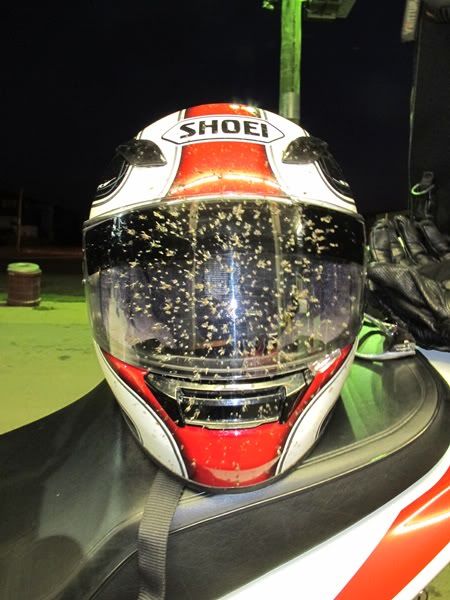 Was it hard to see?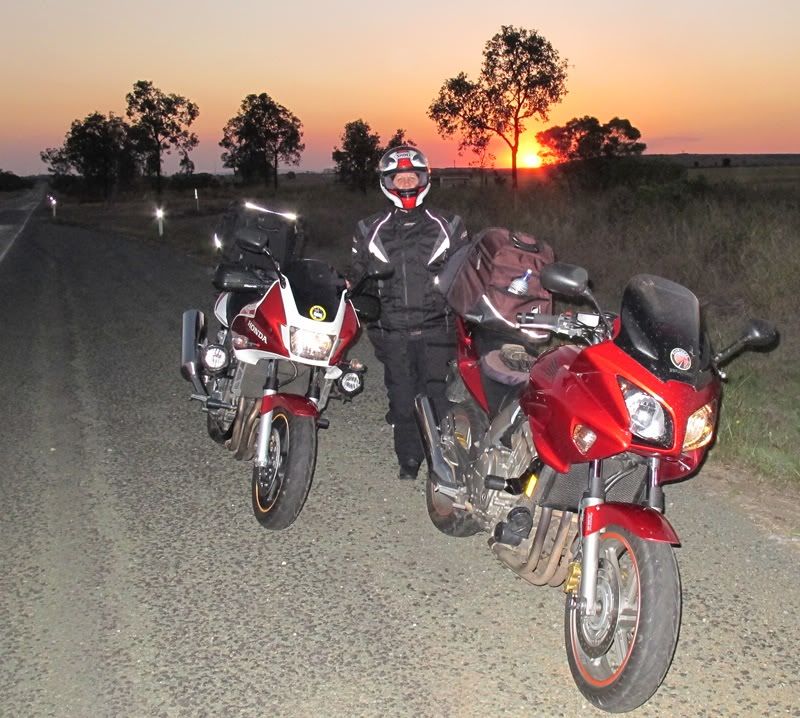 The Sunset Shot - CeeBee, Charleen and the Biffer
So we picked a spot on the map west of Biloela, Roundstone Station, and off we went. We went past the large mining district and through the town of Moura and out a bit further before finding Roundstone. Turned out their front access road was made of all little round stones and difficult to ride on. But we managed to not drop the bikes and sent of a SPOT OK message, enjoyed a bit of peace and quiet in the late afternoon sun, then headed back in to Biloela. Now we had the sun behind and the riding was much easier. We only stopped for a quick sunset shot and then gathered every bug in the district on our way in.
A bite to eat and then the early night.
Woke up at 3:25, just before the alarm - I seem to do that on long rides - and we were underway a bit late at 15 minutes after our planned 4:00am start. Charleen was in front as she had the HID lights on the CeeBee whereas the Biffer only had the standard lights, which turned out to be pretty good.
It wasn't long before we hit the fog. Thicker and thicker it got until we were riding under 60kph and practically having to feel our way along. This was no way to get distance under the wheels!
But the fog persisted all the way up to the Capricorn Highway and in to Duaringa. Then it cleared up a bit and we pulled in to Dingo roadhouse, cold, damp and our ETA half an hour later than I would have liked.
After a quick breakky and coffee we headed north and the going got much better. Good road, warm sunshine and only the odd road train to contend with. We slowly pulled back the ETA to something more respectable.
Arriving at Nebo, I noticed Tack had made a call and so rang him back to find he was only ten minutes behind us. While we waited, Malcolm turned up, then Tack arrived with a veritable convoy in tow. Riders from SA, Vic and all places in between had joined in. Great FarRiding stuff.
But we were on a mission to get there early and set up checkin, so we said a hurried "Hi and Bye" and took off with 130km still to do and some not-so-quick roads ahead.
Turns out they were even less quick as we got stopped time and time again at roadworks, four of them in all.
Finally, at the last roadworks stop, we turned up our 1000km with 11 to do, the last four looking like they were straight up. Turned out to be a great set of twisties that were quite technical. Mainly because there were several grids strategically placed on sharp corners. That sure kept us on our toes. The Biffer took to it like a duck to water and I had a few minutes of great fun.
We arrived at the top with a good fifteen minutes to spare before checkin opened, to be greeted by FarRiders galore in a spectacular setting that looked back down the range towards Mackay - or would if there were less smoke in the air.
Still, it was a great place for lunch and also great to catch up with all the old and new FarRiders from Near and Far.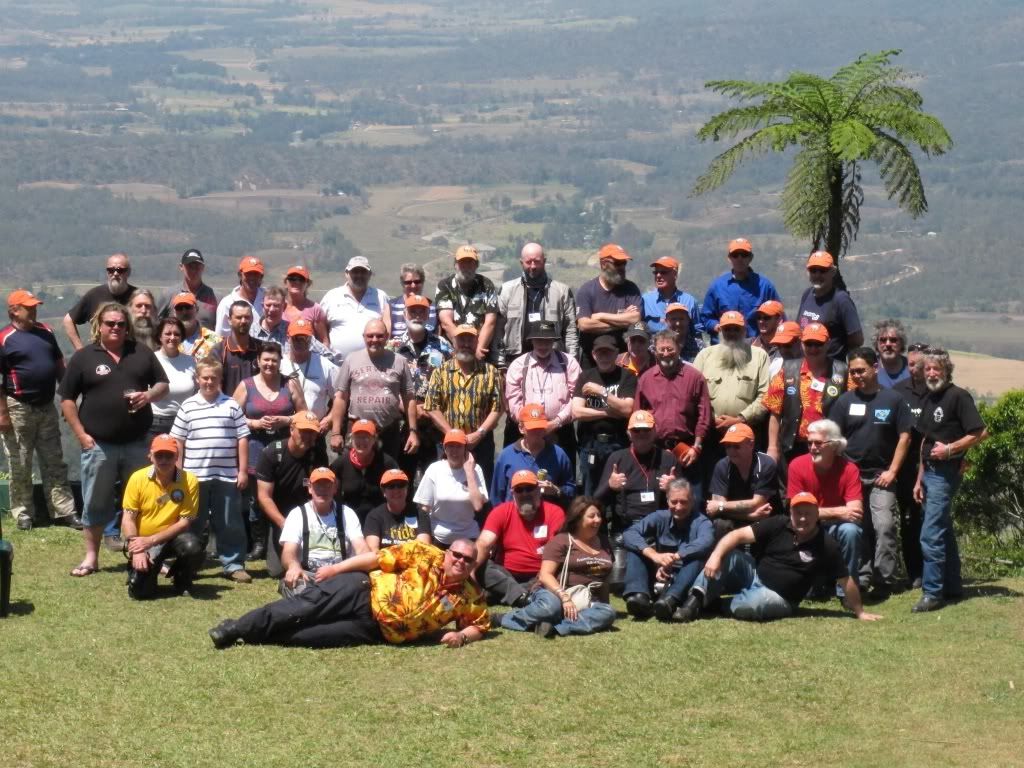 Click this for a much larger version
Checkins, lunch, speeches and photos, all the usual stuff and before we knew it, we were due out again as we still wanted to make it back to Rocky for the night.
Down the hill again and we soon caught up with JC and Andrea on that beautiful CBR1000F. We stayed with them until Homebush then headed south to Sarina for a fuelup.
We had a nice untroubled run then but only until just south of Clairview where we came up behind a traffic queue of a couple of kilometres. Apparently fires had blocked the road ahead and stop/go had been set up.
Moving forward bit by bit, we soon got sick of that and could see a group of bikes further down the line.
We made our way slowly down the "bike lane" and caught up with BmacG with Deb and Spada plus a couple of other bikes. We inched our way towards the front and then through the smoke together.
Then it was an hour and a half run in to Rocky in heavy traffic. Eventually we all shoved Spada in to the lead on his Blackbird and we threaded our way past the throng, arriving in Rocky just on dusk.
That was enough for us, it had been a long day and Charleen and I were just about shot. Spada and BmacG and Deb decided to keep going and to their credit, I heard they made it home in good time. Well done.
Our Sunday was much better but it got off to a slow start. I decided to fill in the Finisher Form, only to find the database was stuck on an incorrect password and refusing to load. Aagh! I knew all those FarRiders would be trying to get on. So I got on the phone and got our lodger at home to get out of bed and switch on my computer, logged in with the iPad and spent a good hour or so tracing the problem and getting it fixed.
Only a couple of minutes of it being online, the first entry came through. Success. We could be on our way.
Keeping to our idea of not using the Bruce any more than we had to, we headed out through Mt Morgan and back down to Biloela and from there to re-trace our route back home. We had a lovely day of riding. There was quite a bit of wind which resulted in some interesting lean angles on some corners, but also stirring up much smoke and fires. I was pretty sure we only just made it through a couple of places before the Brigades turned up and closed off the road. This was later confirmed by a phone call from MichaelP who came along after us and had to be re-directed a couple of times, even over some dirt roads to Mt Perry and across to the Bruce.
We were much more fortunate and made it home in plenty of time to give the bikes a much needed tub and sit back to finally take in all of what turned out to be a very eventful and exciting FarRide.
Tubby Time
So, how did I go on the Little bike, rather than the 'Wing? Well the Biffer handled itself quite well and was (as it usually is) great fun to ride. It was great to have it for that quick run up and down the Eungella Range.
But for the long-haul rides of 1000km plus days, I won't be getting rid of the 'Wing.